Hola a todos!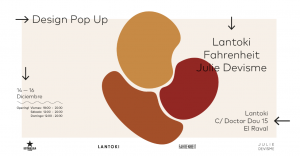 Si estáis invitados a este evento no es por casualidad. Nos encantaría compartir un buen rato pre navideño con vosotros !!
//
If you received this invitation it's not a coincidence. It means we would love to share with you great moments before Christmas !!
Somos 3 diseñadores que compartimos mucho más que el espacio de trabajo. La pasión por el diseño, la producción local y la prioridad de la calidad ante la cantidad son elementos clave en nuestro día a día. Esta vez LANTOKI abre sus puertas de manera especial.
//
We are 3 designers sharing much more than a work space. The passion for design, local production and priority of quality over quantity are key elements in our day after day.
This time LANTOKI opens its doors in a different way!
Quienes? // Who?
Lantoki ( @lantoki )
Fahrenheit ( @fahrenheit_bcn )
Julie Devisme ( @ju_dvsm )
Dónde? // Where?
LANTOKI
C/ Doctor dou 15, bajos
Raval
Cuando? // When?
Opening: Viernes 14, 18h-20h30
Sábado y Domingo 12h-20h30
Que va a pasar? // What's is gonna happen?
Presentaremos nuevas colecciones, ediciones especiales y ofreceremos precios muy apetecibles.
//
We'll show you new collections, special editions and offer products for all kind of budgets. 
FB  https://www.facebook.com/events/2258995291043212/
Y todo esto acompañado de buena música y por supuesto Estrella Damm !
//
And all of this surrounded by good music and of course Estrella Damm !
Come over and say HOLA!