La faula fantàstica 'Jupiter's Moon' guanya Sitges 2017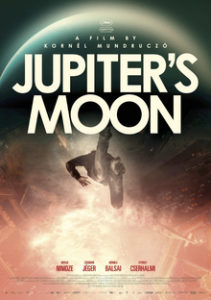 El premi especial del Jurat és el drama sobrenatural noruec 'Thelma'; i la francesa Coralie Fargeat guanya la millor direcció amb la seva opera prima 'Revenge'
La 50ª edició del Sitges – Festival Internacional de Cinema Fantàstic de Catalunya acaba avui amb un palmarès que premia el cinema europeu. L' hongarès Kornél Mundruczó -director que sempre ha introduït l'element fantàstic de manera intel·ligent a les seves pel·lícules- ha aconseguit el premi a la Millor Pel·lícula amb Jupiter's Moon, una faula fantàstica que compta amb un enlluernador disseny de producció. Jupiter's Moon també ha guanyat el premi als millors efectes visuals. El premi a la Millor Direcció ha caigut en la francesa Coralie Fargeat que amb una violència que recorda els clàssics dels anys 70, ha signat una brillant òpera prima: Revenge. El palmarès de Sitges 2017 il·lustra un Festival que ha aconseguit xifres de rècord, amb un augment del 10% en la venda d'entrades.
Jupiter's Moon ha enlluernat i el seu director Kornél Mundruczó  -autor de l'extraordinària White God- ha passejat complicitat per Sitges i ha reclamat consciència social sobre un dels grans drames del nostre tempos com és la immigració. Mundruczó recollirà el Premi a la Millor Pel·lícula de la Secció Oficial a la gala especial de cloenda de Sitges 2017, que se celebrarà aquesta nit a la Fragata per a commemorar el 50 aniversari del Festival La gala està protagonitzada per La Fura dels Baus i produïda per la Xarxa per a la Comunicació Local.
La llista de premis Sitges 2017 reconeix els papers de Marsha Timothy a Marlina the Murderer in Four Acts i de Rafe Spall en The Ritual. També han estat premiats els realitzadors catalans Pintó & Caye, que han rebut el premi al millor curtmetratge amb R.I.P i el premi del públic per Matar a Dios. El Premi de la Crítica José Luís Guarner ha estat ex aequo per dues pel·lícules que arribaven a Sitges avalades pels premis anteriors recollits en els festivals d'Austin i Locarno, la brasilenya As boas maneiras, i el de millor guió en el Festival de Cannes, la pel·lícula del grec Yorgo Lantinos The Killing of Sacred Deer.
PALMARÈS SITGES 2017
Secció Oficial Fantàstic Sitges 50
Millor pel·lícula / Mejor película / Award for Best Feature Length Film: JUPITER'S MOON, de Kornél Mundruczó
Premi especial del jurat / Premio especial de Jurado / Special Jury Award: THELMA, de Joachim Trier
Millor direcció (patrocinat per Gas Natural Fenosa) / Mejor dirección / Award for Best Director: Coralie Fargeat, per REVENGE
Millor interpretació femenina / Mejor interpretación femenina / Award for Best Actress: Marsha Timothy, per MARLINA THE MURDERER IN FOUR ACTS
Millor interpretació masculina (patrocinat per Autolica – Mercedes Benz) / Mejor interpretación masculina / Award for Best Actor: Rafe Spall, per THE RITUAL
Millor guió / Mejor guion / Award for Best Screenplay: Joachim Trier i Eskil Vogt, per THELMA
Millors efectes especials / Mejores efecto especiales / Award for Best Special Effects: Ferenc Deák, per JUPITER'S MOON
Millor fotografia / Mejor fotografía / Award for Best Cinematography: Andrew Droz Palermo, per A GHOST STORY
Gran premi del públic (patrocinat per La Vanguardia) / Gran premio del público / Grand Audience Award: MATAR A DIOS, de Albert Pintó & Caye Casas
Millor curtmetratge / Mejor cortometraje / Award for Best Short Film :R.I.P, de Pintó & Caye
Focus Àsia
A SPECIAL LADY, de Lee An-kyu
Menció especial / Mención especial / Special mention : MARLINA THE MURDERER IN FOUR ACTS, de Mouly Surya
Òrbita
Millor pel·lícula / Mejor película / Award for Best fim: THE BATTLESHIP ISLAND: DIRECTOR'S CUT, de Ryoo Seung-wan
Panorama Fantàstic
Millor pel·lícula / Mejor película / Award for Best film: CREEP 2, de Patrick Brice
Panorama Documenta
Millor pel·lícula documental / Mejor película documental / Award for Best documentary film: 78/52, de Alexandre O. Philippe
Anima't
Millor pel·lícula / Mejor película / Award for Best film: TEHRAN TABOO, d'Ali Soozandeh
Millor curtmetratge / Mejor cortometraje / Award for Best Short Film: HYBRIDS, de Florian Brauch, Matthieu Pujol, Kim Tailhades, Yohan Thireau i Romain Thirion
Noves Visions One
DAVE MADE A MAZE, de Bill Watterson
Menció especial / Mención especial / Special mention: KUSO, d'steve
Noves Visions Plus
Millor pel·lícula / Mejor película / Award for Best Film: DAWSON CITY: FROZEN TIME, de Bill Morrison
Noves Visions Petit Format
Millor curtmetratge / Mejor cortometraje / Award for Best Short Film : HOISSURU, d'Armand Rovira
Jurat de la crítica
Premi de la crítica – José Luis Guarner / Premio de la crítica – José Luis Guarner / José Luis Guarner Award (Critics Jury)
Ex aequo
AS BOAS MANEIRAS, de Juliana Rojas i Marco Dutra
THE KILLING OF A SACRED DEER, de Yorgos Lanthimos
Premi Citizen Kane a la millor direcció novell / Premio Citizen Kane a la mejor dirección novel / Citizen Kane Award for Best Up-and-Coming Director  
Coralie Fargeat, per REVENGE
Millor pel·lícula Discovery / Mejor película Discovery / Award for Best Film Discovery
BRIGSBY BEAR, de Dave McCary
Jurat Carnet Jove / Jurado Carnet Jove / Carnet Jove Jury
Millor pel·lícula / Mejor película / Best film: A GHOST STORY, de David Lowery
Millor pel·lícula de Midnight X-Treme / Mejor película Midnight X-Treme / Best Midnight X-Treme film: ANNA AND THE APOCALYPSE, de John McPhail
Premi Brigadoon Paul Naschy / Premio Brigadoon Paul Naschy / Brigadoon Award
CUERNO DE HUESO, d'Adrián López
Samsung Sitges Cocoon
Millor pel·lícula en realitat virtual / Mejor película / Award for Best film: KNIVES, d'Adam Cosco
Menció especial / Mención especial / Special mention: RAY, de Rafael Pavón
Premi del públic a la millor pel·lícula en realitat virtual / Premio del público a la mejor película / Audience Award for Best film: ALTERATION, de Jérôme Blanquet
Méliès
Méliès d'argent a la millor pel·lícula / Meliés de plata a la mejor película / Silver Melies Award for Best film: THELMA, de Joachim Trier
Méliès d'argent al millor curtmetratge / Meliés de plata al mejor cortometraje / melies Award for Best Short film: EXPIRE, de Magalí Magistry
Blood Window
MADRAZA, d'Hernan Aguilar
Menció especial a la millor actriu / Mención especial a la mejor actriz / Special mention for Best Actress: Isabél Zuaa, per AS BOAS MANEIRAS
Premis SGAE Nova Autoria
Millor curtmetratge / Mejor cortometraje / Award for Best Direction: CELEBRACIÓ, de Pau Cruanyes i Gerard Vidal
Millor guió / Mejor guion / Award for Best Screenplay: Anna Agulló, per UNA CAJA CERRADA
Millor música original / Mejor música original / Award for Best Original Music: Joan Masats, per SESGO, UNA HISTORIA DE PREJUICIOS Y GOLOSINAS
Menció especial / Mención especial / Special Mention: LA FUGA DE LOS 45, per Cristina Caamaño