Jackies 12h Festival w Sam Divine – Rooftop + La Terrrazza Night 5 de octubre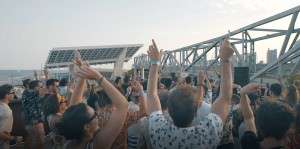 (ESP) Jackies presentará un festival de 12h a ritmo de House Music en 2 ubicaciones diferentes.Cada fiesta se lleva a cabo en un lugar mágico y especial seleccionado al máximo detalle. De 17 a 22:00 estaremos en el #rooftop del Go Beach Club con un soundystem impresionante y con vistas al mar, luego seguiremos la fiesta de 0:00 a 6:00 en LaTerrrazza Barcelona con Sam Divine y Lexlay.
(ENG) Jackies will present a 12-hour festival with House Music in 2 different locations. Each party takes place in a magical and special location selected to the maximum detail. From 17 to 22:00 we will be on the #rooftop of Go Beach Club with amazing soundsytem and sea views and then we will keep the vibe on from 0:00 to 6:45 at La Terrrazza Barcelona with Sam Divine y Lexlay.
«In the beginning there was Jack, and Jack had a groove and from this groove came the grooves of all grooves. Jack boldly declared, let there be house – and house music was born!»
Sam Divine is a DJ that knows exactly what to play and when to play it. The hours she spent rifling through vinyl in the warehouse of Chemical Records, where Sam once worked as a house buyer, gives her an insurmountable understanding of the genre.
Daytime: ROOFTOP GO BEACH CLUB
Line up: Special Guest /:Matteo Scuro b2b Viccenzo / Jana La Fontaine B2B Miriam Rigà
Nightime: La Terrrazza (free till 1:00 with wristband. You will get them at the rooftop)
Line up: Sam Divine / Lexlay / Matteo Scuro B2B Viccenzo / Kapi
So its 12h party
#ONLYGOODVIBES
(ENG) IMPORTANT: We have a limited capacity so we recommend to book tickets as soon as possible (booking your tickets, you have the access guaranteed).
Powerfull soundystem
HOUSE MUSIC ALL DAY LONG
LIMITED CAPACITY.
Powered by Jackies
Open Air // // rooftop// Exclusive Sea Views // Located next to Forum