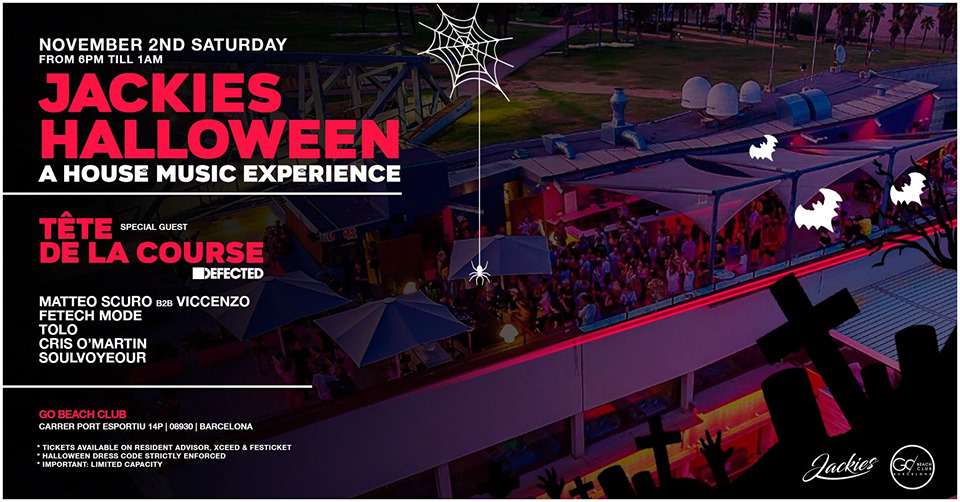 Sábado de 18:00 a 01:00
(ESP) En Noviembre despedimos la temporada de #rooftops y #openairs de este 2019, en un enclave único como es Go Beach Club, único por ser el único #rooftop de Barcelona con un sonido espectacular y por poder bailar con vistas al mar mediterráneo. Todo ello en una fecha tan especial como Halloween, 2 espacios #openair y #club decorados para esta ocasión.
(ESP) In November we said goodbye to the #rooftops & #openairs season of this 2019, in a unique enclave such as Go Beach Club, unique for being the only #rooftop in Barcelona with a spectacular sound and for being able to dance with views of the Mediterranean Sea. All this on a date as special as Halloween, 2 #openair and #club spaces decorated for this occasion.
Expect 🔊 HOUSE, FUNK, DISCO MUSIC.
Line up:
Tête de la Course
Fetech Mode
Matteo Scuro B2B Viccenzo
Albert Rodriguez aka Tolo
Cris O'Martin
SoulVoyeur
(ENG) IMPORTANT: We have a limited capacity so we recommend to book tickets as soon as possible (booking your tickets, you have the access guaranteed).
(ESP) IMPORTANTE: Nuestra capacidad es limitada por lo que recomendamos comprar los tickets lo antes possible (Comprando tus tickets, tienes tu acceso garantizado).
📍 Location: Rooftop & Club Go Beach Club