L'actor i cantant JOAN VÁZQUEZ presenta en concert el disc SOMETHING'S COMING, un tribut a Sondheim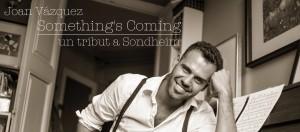 11 de juny, a les 18:30 hores, tindrà lloc a la sala Bogart (av. Diagonal, 426) el concert de presentació del disc SOMETHING'S COMING, un tribut a Sondheim de l'actor i cantant JOAN VÁZQUEZ.
SOMETHING'S COMING, un tribut a Sondheim recull la gravació de l'espectacle homònim que Joan Vázquez va estrenar l'octubre de 2015 a la sala Luz de Gas i que, posteriorment, va fer temporada en el Teatre Gaudí de Barcelona i en el Nuevo Teatro Alcalá de Madrid.
El disc, interpretat per Joan Vázquez en la veu i el piano, inclou alguns dels temes més emblemàtics de la carrera del compositor de musicals Stephen Sondheim, com el famós Send in the Clowns de A Little Night Music, l'apassionat Being Alive de Company, el colpidor Losing My Mind de Follies, el tema Sooner or Later de la pel·lícula Dick Tracy (Oscar a la Millor Cançó Original) o Something's Coming de West Side Story, que dóna nom al disc.
Stephen Sondheim, guanyador del Oscar, el Tony i el Drama Critics Circle Award, és autor de mítics musicals com Company, Sweeney Todd, A Little Night Music, Sunday in the Park with George, Merrily We Roll Along, Follies o Into the Woods, i de les lletres de West Side Story o Gypsy. El 1983 va ser escollit per l'Acadèmia Americana de les Arts i les Lletres. El 1990 se'l va anomenar el primer profesor convidat de teatre contemporani a la Universitat de Oxford i el 1993 va rebre el premi honorífic del Kennedy Center per la seva trajectòria. Ha escrit pel cinema en algunes ocasions com Dick Tracy o Reds.
Joan Vázquez ha actuat en espectacles com Hair, Mamma Mia!, Els Nois d'Història dirigit per Josep Maria Pou, Goodbye Barcelona dirigit per Fran Arráez, Merrily We Roll Along dirigit per Daniel Anglès, Bagdad Café dirigit per Percy Adlon, en diversos espectacles d'El Musical Més Petit com Off-Broadway o Jugant a Rodgers, Gaudí, My Fair Lady dirigit per Jaime Azpilicueta i Rent -el 1999- dirigit per Abby Epstein i Michael Greif.