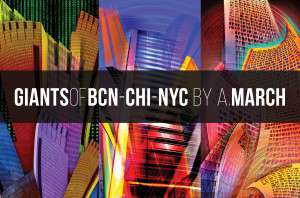 Exposición Giants of BCN, CHI and NYC
Muestra de Fotografía/arte digital.
OSBAR
Carrer Diputación 225, 08011 Barcelona.
Opening night Dec 11 @ 22:30. Estará abierta hasta el 11 de Febrero del 2016.
March se inspiró en el edificio Flat-iron, que es un símbolo de la ciudad de Nueva York, monumental, pero con clase. Su presencia solemne le dio la oportunidad de extraer el edificio de su entorno y crear una fantasía mediante la utilización de Photoshop, aplicando filtros, canales, modos de fusión y ajustes. Los colores elegidos son extravagantes con líneas deslumbrantes. Fotos tomadas en el interior de los edificios de cosas como elementos decorativos o alfombras se utilizan para crear los fondos de cada edificio. Cada gigante tiene líneas, formas texturas y personajes que inspiran la metamorfosis de cada uno de ellos. Cada gigante es retratado con una mezcla de realidad y ficción, lo que da como resultado un fuerte impacto visual.
El fotógrafo ruso Nicolas Tikhomiroff escribió una vez: «La fotografía debe ser el resultado de una emoción, un rayo de la iluminación, o un momento lleno de amor o la tristeza.»
La colección Giants of Chicago, Barcelona y New York city ofrece una visión hiperrealista de la arquitectura icónica de estas ciudades. Estos iconos se transforman aumentando el espacio teatral de la fotografía, con manchas y toques de color. La multiplicidad de puntos de vista que March muestra en estas obras da la edificios da una dimensión extra. La imagen evoca un sentimiento de admiración por estas estructuras monumentales y alienta a mirar más allá de un común paisaje urbano. Al volver a imaginar su entorno, March crea un punto de entrada para apreciar donde vive. En tal sentido, interpreta la vitalidad de la ciudad incluyendo todas sus fiestas, barrios eclécticos y el fervor de un equipo deportivo. Las fotografías rebotan al ritmo de un lugar bullicioso y dinámico. La importancia cultural e histórica de estos gigantes que March plasma en estas colecciones subraya la presencia vibrante y masiva en unas ciudades de potencial ilimitado.
Vanessa Smith
curador,
Galería de presidente y Colección Permanente
Harold Washington College
Chicago
BIOGRAPHY
Alberto March is a photographer/graphic designer living and working in Barcelona, Spain. He lived in the United States for 10 years and become an American citizen. He was born in Venezuela in1960. He received his B.A., in Graphic Design in 1985 and his B.A. in Advertising and Marketing in 2000. At the age of 14, he studied Art and Music, which founded his artistic journey. In 1985 he collaborated in different projects with international famous artists such as Victor Valera, Alirio Palacios and Luisa Richter, given him the opportunity to shape his roots as photographer, artist and graphic designer. He participated in-group exhibitions from 1980 to 1990 in Venezuela, Argentina, Peru, Brazil, Colombia and Central America. His paintings were awarded with two Tito Salas special recognition awards in 1982 and 1984. In 1985 The Museum of Contemporary art of La Rinconada and Galería de Arte Nacional, Caracas – Venezuela held black and white photographs called Portraits of my Inner, which later toured for two years through South American Contemporary Art Museums. Recent exhibitions of 14-pieces titled "Giants of Chicago" at ArtPrize, Grand Rapids, Michigan, Consulate of Venezuela, UNAM University of Mexico in Chicago, CuCut and Paspartu Gallery, Barcelona, Spain and The Thompson Center, Chicago IL. The latest exhibition called Victoria was shown at the UNAM University of Mexico in Chicago (Sept 26-Oct 26, 2013) also in BCN at Casinet D'Hostafrancs during the INT month of Dance, and Giants of BCN was showcased at Cucut and BY galleries, Barcelona 2014-2015.
From 1987 to 1995 Alberto March worked as an Art Director for prestigious advertising agencies in Spain and South America. In 1996 he founded GrafMarc, which started as a Venezuelan based Corporation offering design, marketing and visual communication services. In 2002 He moved his company GrafMarc from Caracas, Venezuela to Miami Lakes, Florida and has full representation in Chicago, Illinois and Barcelona, Spain.
Alberto March has been recognized with numerous awards, among them are:
· 2015 Best of Chicago Award for GrafMarc.com
· 2015 Silver Davey Award for "Rompamos el Silencio" Campaign
· 2015 Best of Business Award by the Small Business Community.
· 2015 British Medical Association Medical Book Awards/ Birth Defect Survillance and the Manual for Programme Managers. UK.
· 2015 Summit Awards/ Public Service Poster "Ni una victim más" . USA 2015
· 2015 Communicators Award/ National Campaign "Ni una victim más" . USA 2015
· 2014 Poster Contest / Ayuntamiento de Barcelona Festa Major de la Marina 2014
· 2013 Poster Festa Major de Sants/ American Graphic Design Award. USA 2013
· 2013 Poster Contest / Ayuntamiento de Barcelona Sants-Montjuic 2013
· 2013 Communicators Award/ Cover/Book/ Asi lo Hicieron. Chicago 2013
· 2012 State Of Illinois | Distinguished Artist Award | Jesse White, Secretary of State.
· 2012 Communicators Award/ Ad/Magazine/ NegociosNow.com. Chicago 2012
· 2012 Gold Summit Creative Award/Poster Chicago Latin Film Festival 2012
· 2011 Graphic Design USA print/ poster/ 2011 NLAAD Campaign Latinos Unite! Let's Stay Healthy
· 2011 Davey Award/ Photography/ Giants of Chicago
· 2011 Communicators Award/ print/ poster/ Chicago Latino Film Festival
· 2010 Silver Davey Awards/ print/ logo/ Broward County Health Department Florida
· 2010 Communicators Award/ print/ poster/ NLAAD
· 2010 Summit Creative Award/PSA Logo
· 2010 Summit Creative Award/Consumer Magazine Advertising
· 2010 FEXY Award / Honoring Excellence in Graphic Effects in Print.
· 2009 Davey Awards / Poster: NRA SHOW 2009-Chicago
· 2009 Davey Awards / Poster: Fashion Week Chicago 2009
· 2009 Communicators Award / Poster: 25th Chicago Latino Film Festival
· 2008 Summit MEA Marketing Effectiveness Award / Poster: United We Can
· 2008 Silver Davey Award, under the category of National Ad Campaign: United We Can
· 2008 Summit Creative Award, Miami Dade County Health Department – WAVE Logo
· 2008 Hispanic HIV Leadership Award, Outstanding Commitment and Service – NLAAD
· 2007 Summit MEA Marketing Effectiveness Award / Post-card book: Word of Wisdom
· 2006 10th Annual Webby Awards, Official Honoree for DOCTALC.COM
· 2005 Silver Davey Award, under the category of Print Materials
· 2005 APEX Award of Excellence, Health & Medical Materials, Pals Vintage Cards.
· 2000 Best Website, ANDA Award
· 1999 Best Website, ANDA Award
· 1984 Special Recognition Award, Tito Salas
· 1982 Special Recognition Award, Tito Salas