10 L'OBC I BROADWAY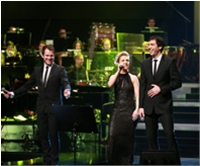 Programació: Temporada OBC.
Sala:Sala 1 Pau Casals.
La influència de Shakespeare no es limita només al món simfònic i operístic. Durant dècades, a partir de mitjans del segle XX, Broadway ha estat l'epicentre del drama shakespearià contemporani. El musical no és un gènere menor, i ens ha regalat obres mestres de la tradició musical que s'allunyen del pur entreteniment. És el cas, per exemple, de West Side Story, obra incomparable del compositor, director i pianista Leonard Bernstein, que pren com a bíblia narrativa un Romeu i Julieta adaptat a les lluites veïnals de la Nova York dels anys seixanta. Podem dir el mateix de la fantàstica Kiss me, Kate del geni de Cole Porter, que fa una versió lliure de The Taming of the Shrew, o de The Boys from Syracuse, que és una adaptació de The Comedy of Errors. Aquestes formes tradicionals es transmuten en obres posteriors quan el musical de Broadway importa girs i tendències estètiques pròpies del pop-rock nord-americà dels vuitanta i noranta. En aquest punt, sorgeix la figura senyera d'Andrew Lloyd Webber, autor de clàssics que han monopolitzat la cartellera del carrer 42 durant dècades, com ara The Phantom of the Opera o Evita. Tot i d'emprar veus amplificades, l'estructura narrativa dels musicals i la textura orquestral és germana de l'òpera. I no és estrany que aquests musicals hagin fet populars cançons com ara All I Ask of You, There's No Bussiness Like Show Bussiness o la celebèrrima Maria, que després han estat interpretades per nombrosos cantants lírics.
Intèrprets.
ORQUESTRA SIMFÒNICA DE BARCELONA I NACIONAL DE CATALUNYA (OBC)
Robert Purvis, director
Cantants del West-End de Londres:
Deborah Myers
Louisa Lydell
Ian Virgo
John Addison
Adrian der Gregorian
Obres.
COLE PORTER: Kiss me kate. Overture
COLE PORTER: Kiss me kate. Another Openin' Another Show
COLE PORTER: Kiss me kate. So In Love
COLE PORTER: Kiss me kate. Where is the Life that late I led
RICHARD RODGERS: The boys from Syracuse. This Can't be Love/Falling in Love with Love
LEONARD BERNSTEIN: West side story. Tonight
LEONARD BERNSTEIN: West side story. Maria
LEONARD BERNSTEIN: West side story. A Boy Like That
LEONARD BERNSTEIN: West side story. America
————-
ANDREW LLOYD WEBER: The Phantom of the Opera. The Phantom of the Opera.
ANDREW LLOYD WEBER: The Phantom of the Opera. All I Ask of You
ANDREW LLOYD WEBER: Evita. Don't Cry For Me Argentina
IRVING BERLIN: Annie get your gun. There's No Business Like Show Business
IRVING BERLIN: Annie get your gun. Anything You Can Do
COLE PORTER: High Society. Well Did You Evah!
CLAUDE-MICHEL SCHONBERG: Les Miserables. Empty Chairs at Empty Tables
CLAUDE-MICHEL SCHONBERG: Les Miserables. I dreamed a Dream
CLAUDE-MICHEL SCHONBERG: Les Miserables. One Day More
Més info aquí http://www.auditori.cat